In my previous post I may have mentioned how I was being put upon slightly this weekend, having been asked to host an extra guest by a old friend of mine. Well, I got upset, then I got angry, but now I've made a decision to have him here I am going to be gracious about it. It's not always easy being a grown up, sometimes it means doing things you'd really rather not and since one of these things is being gracious even though my friend has made me really quite angry, I had to find a way to forgive her.
Well, I don't know what part of my brain this came from, but it seemed that I would feel more kindly towards her if I did something kind
for
her. Well, she's a writer and I know she feels the cold, so I thought perhaps some kind of fingerless glove would be an appropriate present. A while back I came across this wonderful, colourful tutorial by
Attic24
for stripey wristwarmers - perfect!
I picked out a lovely blush pink yarn and a cream yarn and am about an inch in and already it's weaving a magic spell on me. As I sit in the sunshine from the window, smarmy cat squirming on my lap and crochet growing in my hands I feel a sense of peace and happiness stealing through me. Someone once said "It's not how far you fall, but how high you bounce." Well, I fell pretty far the last few days, I'm still a bit astounded at how angry and hurt I was, but now, with the help of three wonderful people (darling Mummy, incredible husband, and a new friend who has become very dear to me in a very short amount of time) and a bit of straight talking from myself I have come to a place where I can feel proud of myself again... and lucky to have some good people around me.
Here is how the crochet looks so far... I'll post some new pics when they're done!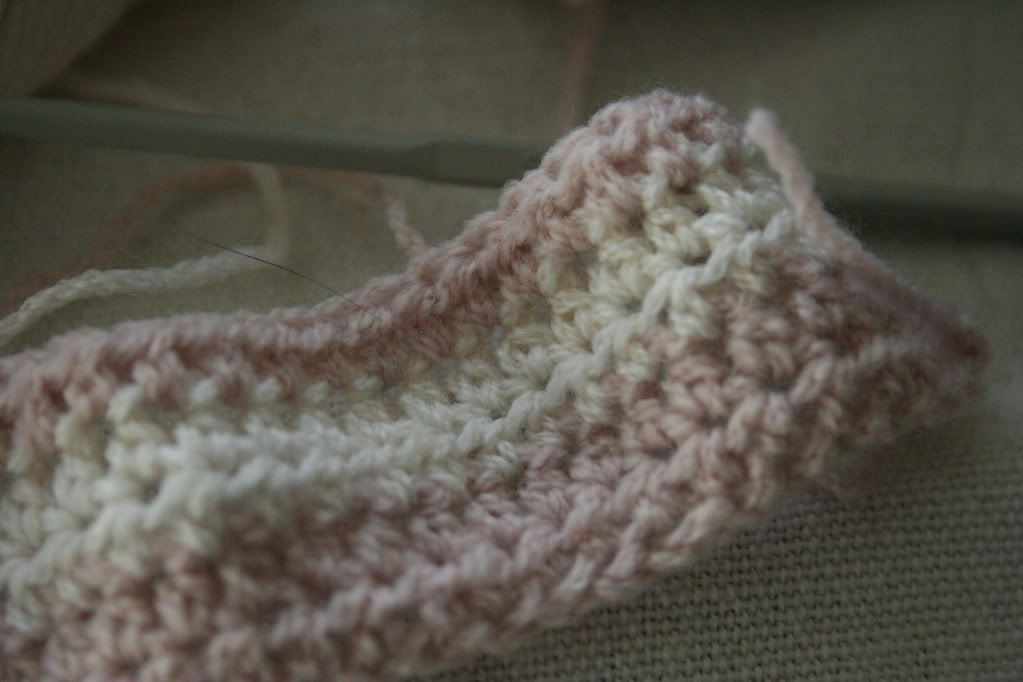 See completed project